Veranstaltungen:

Mittwoch
07.11.2018
19 Uhr
Location: Restaurant Schrnk (Otto Bauer Gasse 26, 1060)

Titel der Veranstaltung: Lesung und Gespräch mit den ukrainischen Autoren (Kooperationspartner – Ukrainische Kulturtage I U stream Fest).
(Im Rahmen des Projekts "Paul Celan 100. Meridian des großen Meisters der deutschen Sprache: Czernowitz-Paris-Ewigkeit")

Mitwirkende: Igor Pomerantsev, Serhiy Zhadan, Andriy Lyubka

Sprachen: Ukrainisch, Russisch, Deutsch
__________________________________________________________

Donnerstag
08.11.2018
14:45 Uhr
Location: Wiener Buchmesse, Radio Wien-Bühne

Podiumsdiskussion - Andriy Lyubka, Igor Pomerantsev, Evgenia Lopata: Paul Celan und moderne ukrainische Lyrik

Jede Nationalkultur hat ihre eigene Geografie, ihre Helden und Mythen. Es gibt jedoch Städte und Persönlichkeiten, die ihren Platz außerhalb der Landesgrenzen und Mentalitäten finden. Die Europäische Kultur und Weltkultur haben eigene Persönlichkeiten, Codes und Kennwörter. Czernowitz (der österreichische Name der heutigen ukrainischen Stadt Tscherniwzi) und Paul Celan sind Intellektuellen weltweit bekannt, das Werk von Paul Celan wird in den Schulen und Universitäten Deutschlands gelehrt. Der Czernowitzer Paul Celan verbindet in seinem Werk auf einzigartige Weise die deutsche, jüdische, ukrainische, französische, rumänische und österreichische Kultur.

Die Veranstaltung findet im Rahmen des Projekts "Paul Celan 100. Meridian des großen Meisters der deutschen Sprache: Czernowitz-Paris-Ewigkeit"statt.

Andriy Lyubka und Igor Pomerantsev sprechen mit Evgenia Lopata über Paul Celan und sein Werk und präsentieren ihre neuen Bücher "Hört ihr mich?" von Igor Pomeranzew und "Dein Blick, Cio-Cio-San" von Andriy Lyubka (beide erschienen in September 2018 im Meridian Czernowitz Verlag / Ukraine).

Sprachen: Ukrainisch und Russisch, Dolmetschen ins Deutsche - Evgenia Lopata

Die Veranstaltungen werden von der Internationalen Literaturkorporation MERIDIAN CZERNOWITZ und Paul-Celan-Literaturzentrum organisiert und finden statt mit Unterstützung durch Ukrainian Cultural Foundation und das Culture Bridges Programm.
Facebook: https://www.facebook.com/events/1962427060723106/
12 листопада 2018 року о 20:00 у Бібліотеці Вацлава Гавела у Празі (Knihovna Václava Havla, Ostrovní 13, Praha) Андрій Любка презентує свій новий роман - "Твій погляд, Чіо-Чіо-сан". Після творчого вечора буде можливість придбати книжки письменника та отримати автограф. Вхід вільний!

Подія в фб: https://www.facebook.com/events/2742872309071817/
Andrij Ljubka je ukrajinský spisovatel, básník, esejista a překladatel, jeden z nejznámějších autorů mladé generace. V roce 2017 za svou knihu Saudade obdržel cenu Jurija Ševeljova. Jeho básně vyšly i v českém časopise Psí víno. Jeho nový román Tvůj pohled, Čio Čio San je psychologický thriller o současném životě na Ukrajině… kde nic neprobíhá beztrestně a kde se šťastné i kruté skutky minulosti odrážejí v životě budoucích generací.

Román představí autor. Moderuje Rostislav Prokopjuk.

Tlumočení do češtiny zajištěno.
Міжнародна літературна корпорація MERIDIAN CZERNOWITZ запрошує
Пауль Целан 100. Меридіан великого майстра німецької мови: Чернівці-Париж-Вічність: поетичні читання та дискусії за участі
Ігоря Померанцева, Андрія Любки, Євгенії Лопати (Україна), Міхаеля Крюґера, Макса Чоллека, Яна Фолькера Рьонерта та Александру Булуца (Німеччина)
ФРАНКФУРТ-НА-МАЙНІ
13 жовтня 18:00
Подія: Творча зустріч із сучасними українськими письменниками
Локація: Готель "An der Messe" Westendstraße 104, 60325 Frankfurt am Main
Учасники: Ігор Померанцев, Андрій Любка
Модератор: Євгенія Лопата
Мови: українська
У кооперації з готелем "An der Messe"
Вхід вільний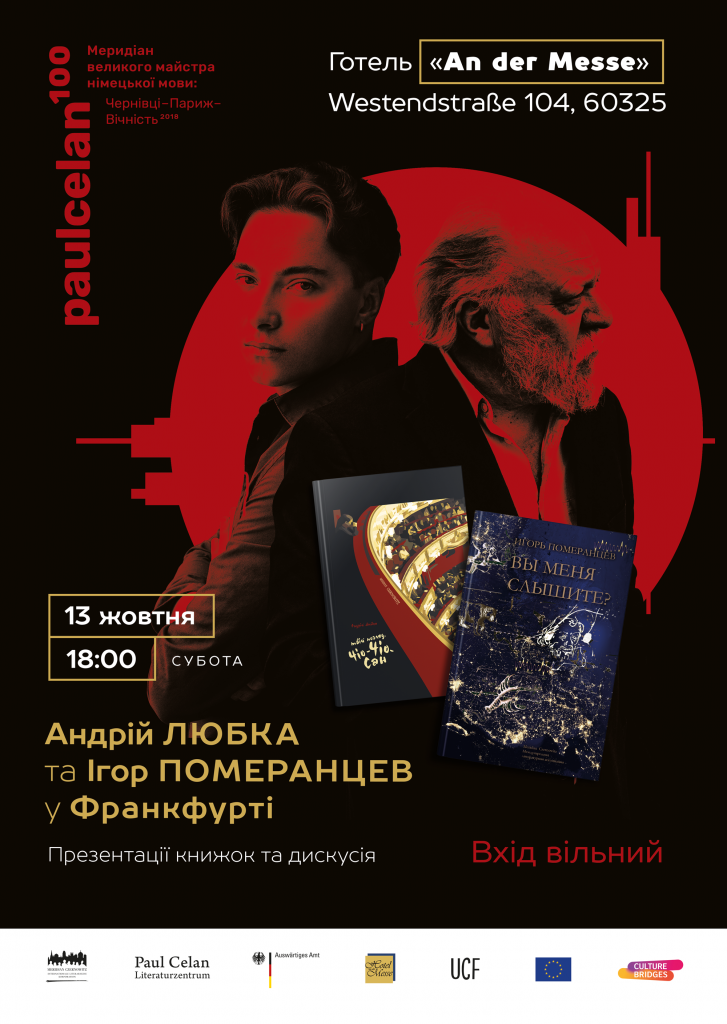 14 жовтня 12:30 – 13:30
Подія: Дискусія на тему: Пауль Целан 100. Меридіан великого майстра німецької мови: Чернівці-Париж-Вічність"
Локація: Frankfurter Buchmesse, Forum Internationaler Dialog (Halle 5.1, Stand A128)
Учасники: Андрій Любка (UA), Александру Булуц (DE)
Модерація: Ігор Померанцев (UA)
Переклад: Євгенія Лопата
Мови: німецька, українська
БРАУНШВЕЙГ
14 жовтня 18:30
Подія: Дискусія на тему: Пауль Целан 100. Меридіан великого майстра німецької мови: Чернівці-Париж-Вічність": читання власних текстів та дискусія, монологи про життя і творчість Пауля Целана
Локація: Raabe-Haus, Literaturzentrum Braunschweig, Roter Saal, Schlossplatz 1
Учасники: Макс Чоллек (DE), Ян Фолькер Рьонерт (DE), Андрій Любка (UA), Ігор Померанцев (UA)
Модерація та переклад: Євгенія Лопата
Мови: німецька, українська
В кооперації з: Freie Ukraine Braunschweig e.V.
МЮНХЕН
15 жовтня 19:00
Подія: Дискусія на тему: Пауль Целан 100. Меридіан великого майстра німецької мови: Чернівці-Париж-Вічність": читання власних текстів та дискусія, монологи про життя і творчість Пауля Целана
Локація: Bayerische Akademie der Schönen Künste, Max-Joseph-Platz 3, 80539 München
Учасники: Міхаель Крюґер (DE), Андрій Любка (UA), Ігор Померанцев (UA)
Модерація та переклад: Євгенія Лопата
Мови: німецька, українська
В кооперації з: Bayerischer Akademie der Schönen Künste
БЕРЛІН
17 жовтня 19:00
Подія: Дискусія на тему: Пауль Целан 100. Меридіан великого майстра німецької мови: Чернівці-Париж-Вічність": читання власних текстів та дискусія, монологи про життя і творчість Пауля Целана
Локація: Haus für Poesie, Knaackstr. 97, 10435 Berlin
Учасники: Макс Чоллек (DE), Андрій Любка (UA), Ігор Померанцев (UA)
Модерація та переклад: Євгенія Лопата
Мови: німецька, українська
В кооперації з: Haus für Poesie
Вхід на всі заходи вільний.
Заходи відбуваються за підтримки Українського культурного фонду, Міністерства закордонних справ Німеччини та програми Culture Bridges, що фінансується Європейським Союзом та здійснюється Британською Радою в Україні.
Джерело: Meridian Czernowitz
Їду на фестиваль Гаупта до Горлиць, завтра там із Ziemowit Szczerekпоговоримо про "Карбід"!
30.09.2018 | NIEDZIELA | 13:30 | Centrum Kultury im. B.I. Antonycza
Nominowany w ubiegłym roku do Literackiej Nagrody Europy Środkowej Angelus Karbid to pierwsza powieść w dorobku ANDRIJA LUBKI — ukraińskiego poety, eseisty, prozaika, tłumacza i aktywisty społecznego, bohatera festiwalowego spotkania GRANICA UKRAIŃSKO-UKRAIŃSKA (30.09, niedziela). Proza ta wiele mówi na temat mentalności współczesnych Ukraińców, łącząc w sobie rozmaite konwencje — powieści przygodowej, satyrycznej, slapstickowej komedii, romansu z elementami czarnego humoru. Lubka obserwuje i analizuje postawy naszych południowo-wschodnich sąsiadów, kreśląc tym samym wciągającą historię nie tylko głównego bohatera, ukraińskiego idealisty i awanturnika, lecz całego narodu żyjącego na styku putinowskiej Rosji i Unii Europejskiej. Wydarzenie odbędzie się przy współpracy ze Zjednoczeniem Łemków, w gościnnych progach Centrum Kultury im. B.I. Antonycza.
Program: http://www.festiwalhaupta.pl/wydarzenia#sekcja-807a-19
Андрій Любка візьме участь у Міжнародному літературному фестивалі VIlenica, який відбудеться 4-9 вересня в Словенії й Італії. Зокрема письменник представить свій роман "Карбід" у Трієсті 4 вересня, а 7 вересня виступить у Сежані:
04.09.2018 19.00 Vilenica gostuje v Trstu
Andrij Ljubka (Ukrajina) in prejemnik štipendije SEP 2018
Povezuje: Neva Čebron
Trst, dvorana Srednjeevropske pobude
Pogovor bo potekal v angleškem jeziku s prevodom v slovenski in italijanski jezik. Tolmači Peter Senizza.
07.09.2018 18.00 Nagrajenci Vilenice in podelitev pisateljske štipendije SEP 2018
Mojca Kumerdej (Slovenija), Jurij Andruhovič (Ukrajina), Ilija Trojanow (Bolgarija/Nemčija), Andrij Ljubka (Ukrajina) in prejemnik štipendije SEP 2018
Podelitev pisateljske štipendije SEP 2018: predsednik žirije za štipendijo SEP Andrej Pleterski in predstavnica SEP Barbara Fabro
Povezuje: Tanja Lesničar Pučko
Sežana, Kosovelov dom
Pogovor bo potekal v angleškem in slovenskem jeziku. Tolmači Breda Biščak.
The 33rd International International Literary Festival Vilenica, organized by the Slovene Writers' Association and the Vilenica Cultural Association from Sežana, will take place September 4–9 in Celje, Hrastnik, Kočevje, Koper, Lipica, Ljubljana, Lokev, Sežana, Štanjel, as well as in Trieste and at the Vilenica cave. Leading authors from Central Europe, other European countries, and the rest of the world, will present themselves and their literature during the festival week.
In the light of the omnipresent discourse of financial and other crises, the central theme of this year's festival focuses on the relation of the subject towards material reality, or to put it otherwise: What does it mean to be and to work as an author at the beginning of the 21st century? In the new century, in which authors are encountering real existential problems, the question of who is writing is not limited solely to a room of one's own of the one writing, but also to the wider social context, marked by the devaluation of culture and art and subsequently, the author's status. This year's Vilenica will, under the slogan Writing and surviving discuss the following: What does it mean to be an author today and what constitutes his or her identity? Is it possible to be an author without publishing and without readers? Who "makes" the author? And what is his or her position in the distribution of power and material goods brought about by the modernized book publishing chain, in which the authorial part is often most poorly financially remunerated, and in which the author is thus forced into having to constantly produce just in order to survive? These are the starting points that will be thematized in the round table discussion of the Central European Initiative in Lipica.
The 16th International Comparative Literature Colloquium hosted by Vilenica in Ljubljana in cooperation with the Slovene Comparative Literature Association will deal with the debate on the relation between literature (and art in general) and its social context. The aim of the symposium is to problematize the reciprocal interaction between literature and society that shows in its double nature; on the one side, literature and art contribute in giving meaning to the social sphere, while, on the other, social agents use (and abuse) literary practices for creating specific meanings – and specific ideological narratives – that they wish to reproduce in a certain social context.
The central name of the festival is the recipient of the Vilenica International Literary Prize 2018, Ilija Trojanow, a German writer of Bulgarian origin. The Vilenica jury presenting this award to this transcultural writer, who is open to diversity and who is at home in many worlds, for his strong critical and upstanding posture that he convincingly articulates in nonfiction literature, as well as, very poetically, in essays, novels, and poems.
The Slovene writer Mojca Kumerdej, who has devoted herself to her literary creation with passionate zeal, as well as in an erudite and very articulated manner, is the author in focus of this year's festival. Mojca Kumerdej will be take part in several festival events and the festival will also see her short story collection Fragma, which will be published by the American publishing house Dalkey Archive Press in Rawley Grau's English translation.
Alongside the recipient of the Vilenica International Literary Prize and the Slovene author in focus, the festival will host many literary authors and cultural mediators from 16 countries from around the world. At literary readings, which represent a constant in the Vilenica programme, other Slovene writers will present themselves as well: David Bandelj, Primož Repar, and Simona Semenič.
We can also read the works of other participants in Slovene: performing at Vilenica will be American poet, critic, and translator of Slovene lyrics Brian Henry (Astronavt, Mondena, 2000), Slovak socially engaged writer Uršuľa Kovalyk, who is also a dramatherapist at Theatre with No Home, in which homeless people and people with special needs perform (DRAG ŠOVU, Cankarjeva založba, 2016), and Maltese writer and poet Immanuel Mifsud, who has also composed some original lullabies in the Maltese language and received The European Union Prize for Literature in 2011 (Prgišče listja, Inštitut IRIU, 2013; Jutta Heim, Cankarjeva založba, 2018).
On the occasion of the publication of the novel Moskovijada by Cankarjeva založba publishing house, translated by Primož Lubej and Janja Vollmaier Lubej, last year's recipient of the Vilenica Prize, Yuri Andrukhovych, will return to the festival. The recipient of the SEP 2017 scholarship, Andriy Lyubka from Ukraine, will return as well. Coming from Romania to Vilenica dramatist, journalist, and author with a unique poetics Petre Barbu, from Georgia, poet, translator, and literary critic Shota Iatashvili, from Hungary short fiction and travel literature writer Karin Peschka. Polish poet and prosaist Wioletta Greg, who lives and creates in British Essex, will also present at the festival.
In cooperation with the Toronto International Festival of Authors, Vilenica will be hosting Canadian author, editor, and creative writing professor Stuart Ross, and, in cooperation with Galway's Cúirt International Festival of Literature, novelist and short story writer Éilís Ní Dhuibhne, the recipient of the Irish PEN award for her outstanding contribution to Irish literature, will visit the festival. With its prestigious stature among European festivals, Vilenica aims to offer space for cultural exchange between authors and literary agents – among the guests of the festival will be publishers and organizers of literary events from Austria, Ireland, Italy, Canada, and Great Britain.
With the publication of an anthology and the hosting of Maltese authors, special attention will be given to literature from Malta, which remains rather unknown in Slovenia. The anthology of contemporary Maltese literature named Wara Settembru highlights 20 authors who have put Maltese literature on the world literary map; we will find some renowned contemporary literary names in it, for example, the recipients of The European Union Prize for Literature Immanuel Misfud and Walid Nabhan. On the occasion of the publication of the anthology, the festival will host Clare Azzopardi, who has won many awards in writing literature for both children and adults; writer, translator, and performer Loranne Vella; poet Norbert Bugeja, a lecturer of postcolonial studies at the Mediterranean Institute of the University of Malta; and the aforementioned Immanuel Misfud.
The international jury, consisting of the festival's guests, will once again select the winner of the Crystal Vilenica prize from among the Central European authors who will be represented in the Vilenica Anthology and who will also read at the Festival. The award will be presented at the literary matinee in Štanjel when also the youngest of the Vilenica Prizes – TheYoung Vilenica Award, turning 18 this year – will be awarded. At the 33rd Vilenica, the Central European Initiative will, in cooperation with the Slovene Writers' Association, bestow its thirteenth consecutive CEI Fellowship for Writers in Residence, fostering literary creativity and exchange of young writers from Albania, Belarus, Bosnia and Herzegovina, Montenegro, Macedonia, Moldova, Serbia, and Ukraine.
Vilenica continues to cooperate with the Srečko Kosovel Vocational College Sežana and the Academy of Music. Students of stoneworking from the Srečko Kosovel Vocational College Sežana will craft the Crystal Vilenica 2017 statue, while the students of photography will document the entire festival and prepare a closing photography exhibition. The students of the Academy of Music will take part in preparing a unique authorial composition that will be performed at the award ceremony in the cave.
Сторінка 10 з 25